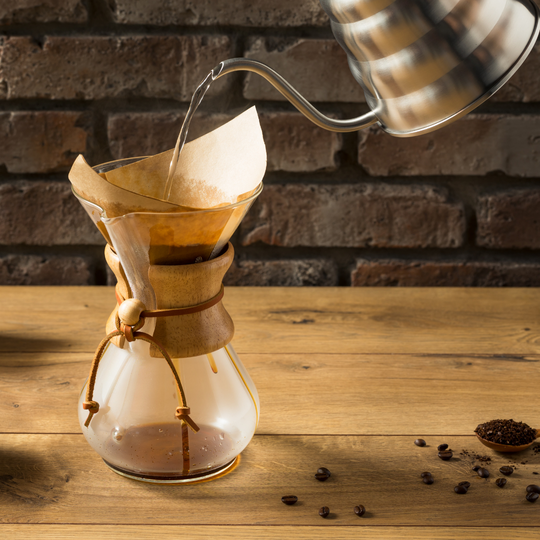 Pour over is considered a manual brew method.
With the pour-over method, you have more control over the variables involved in making coffee as compared to the previous methods mentioned. In other words,pour-over is a manual brew method, so a person has to manually facilitate the process. Therefore, you have to heat the water, grind the coffee, and pour the water.
At its very core, pour-over is a coffee-making technique that involves pouring hot water over coffee grounds. The water then flows through a filter and into your vessel of choice (i.e. a mug or carafe). There are a number of pour-over instruments such as the V60, the ORIGAMI Dripper, and the Chemex.
Chemex coffee is an aesthetically pleasing and delicious way to make pour-over coffee.
Chemex is an hourglass-shaped filter coffee brewer invented by Peter Schlumbohm. It's actually an example of the pour-over method, and if done right, it can yield a very consistent and clean cup of pour-over coffee. What'salso special about the Chemex is that it's a beautiful brewing tool for anyone concerned about their coffee-making aesthetic.
For the best pour over coffee, opt for a coffee to water ratio of 1:17. As for the grind size, you should aim for a medium-coarse grind for pour over instruments. The grinds will look similar to coarse or rough sand. Note that grinding beans too fine or too coarse will have a significant impact on the flavor of your final brew. 

Learn more about how to brew better coffee at home here with this free mini course.